Learn More About Drywood Termites Miami, FL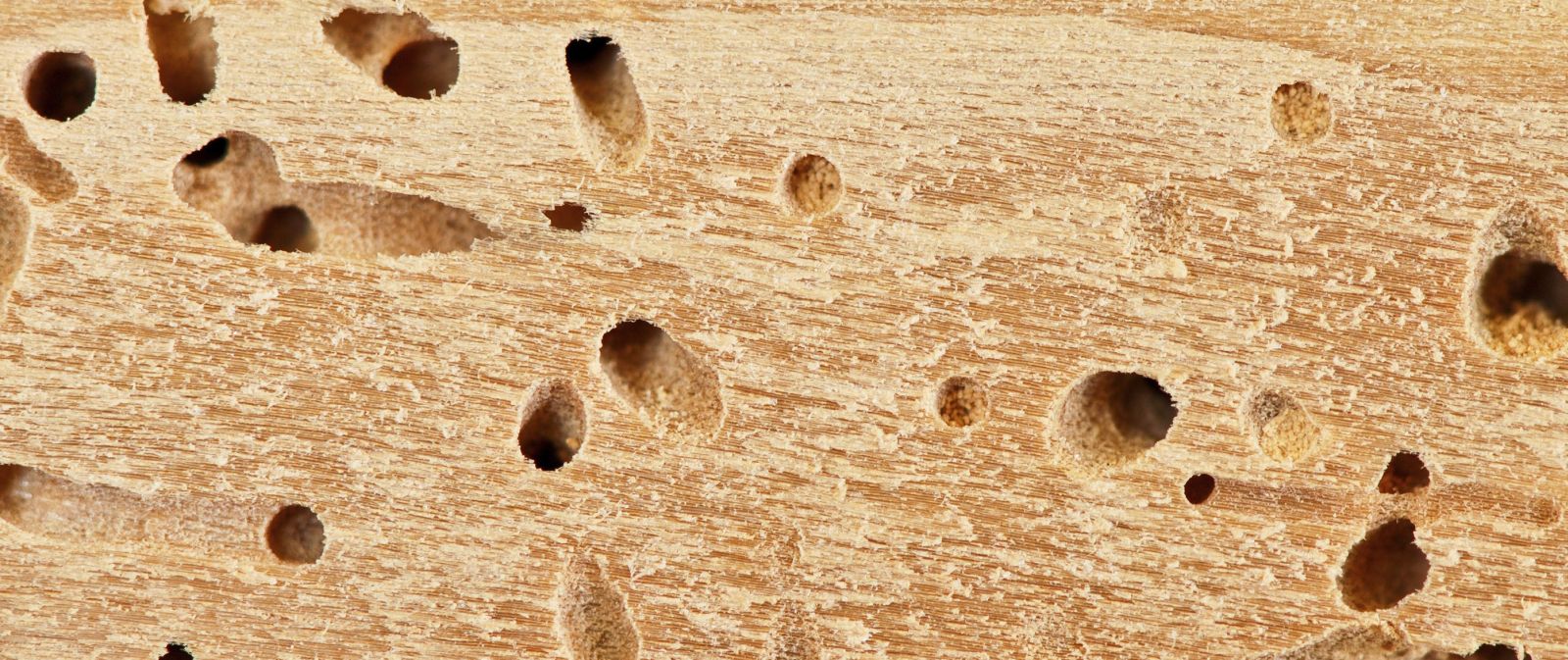 Drywood termites are a group of termites that build their nests within moisture-free wood. Drywood termites are sometimes called powderpost or furniture termites due to being found commonly infesting furniture. Drywood termites occur in small colonies in isolated wood pieces. Multiple colonies can infest a structure simultaneously. They often remain hidden within the wood or other material on which they feed, which is why regular termite inspections in North Carolina are so important.
Pest Identification
| | |
| --- | --- |
| Size | Soldiers grow to ¼ in.; reproductives grow to ½ in. |
| Color | Soldiers are pale brown with dark brown heads and mandibles; nymphs are pale white. |
| Body Structure | All drywood termites have elongated oval bodies without segments, making them different in appearance from ants. Swarmers feature four, equally-sized wings that extend past the abdomen. Immature nymphs are wingless. |
| Characteristics | Winged swarmers mate and produce eggs, which are lain deep in a crevice in a piece of wood. Gestation takes approximately 6 months and the king and queen will continue to feed the offspring up until their third "instar," or development cycle. It can take up to 5 years before a colony fully matures and winged swarmers are produced. |
| Habitat & Behavior | Drywood termites are social insects that reside within a colony. Although less stratified than subterranean termites, there is a caste system in place. Within a colony, kings and queens are responsible for all reproduction with immature nymphs performing food gathering chores. Soldiers are solely responsible for defending the colony against predators. As the name implies, drywood termites are found in dry wood and timber; they do not burrow like subterranean termites. They feed on cellulose material, which can include everything from structural timbers to books and carpet. Drywood termites are nocturnal, so spotting one in the daytime is unlikely; however, an infestation can be recognized by finding discarded wings of swarmers, piles of sawdust or wood shavings, as well as frass--pellet-sized droppings that take on the color of the wood the termites have digested. |
| Prevention & Treatment | If frass or piles of sawdust are noted around your home, particularly around window or door frames, contact a pest control professional immediately. A trained professional will be able to identify the species of termite with certainty and then implement a proper treatment plan. Find out more about termite elimination options. |
GAIN PEACE OF MIND
Same Day Pest Control Available
When it comes to pest infestations, we know you want the problem taken care of immediately. Our prompt & professional team will eradicate pests as fast as we can. We even offer same day pest control services!* *If you call before noon (M-F)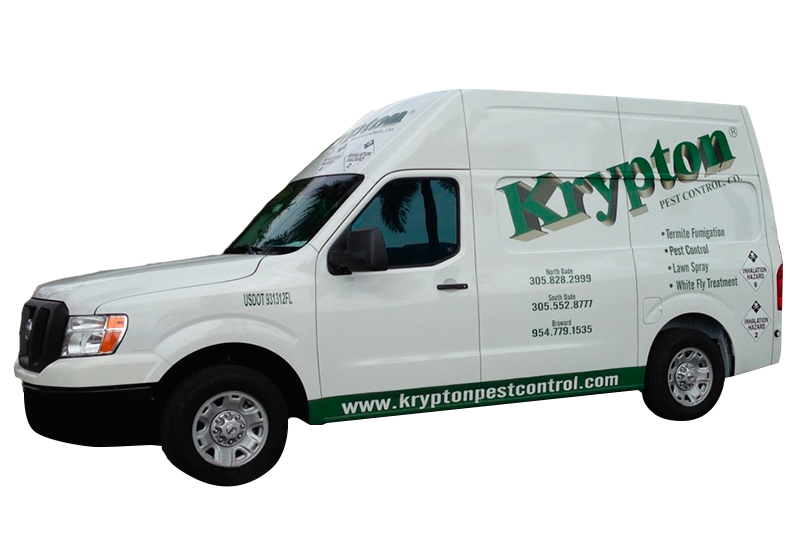 TESTIMONIALS
What Are Clients Are Saying
" Wonderful company to work with. Reached out about tenting and that same Friday the tent was up. They arrived in a timely manner the day of and suggested I remove a couple more items from the house..."
" These guys are great, special thanks to Santiago and supervisor Michael, was kind of worried in the beginning as I always go with companies that are recommended, everything went smoothly."
" On April 27th our condo was tented by Krypton. The salesman came to the meeting and explained in detail how to get ready before tenting. We also received information in writing. "
" The crew was very professional, polite and respectful (short on English) but not an issue. Company called as ahead as promised and showed up within the time frame and adhered to my requested time."
" After months of working with inexperienced exterminators we finally found Krypton Pest Control service that knows the difference between black varied ants and black carpet beetles."
" I highly recommend this company. I have several rental apartments and use them regularly to keep pest out of the units. They work with my tenants schedule and are very flexible. I also use them to..."
" Armando and his team are dedicated to positive customer service. They are on time and communicate with homeowners during the whole process. Good prices for great services!!!"
PEST SOLUTIONS
We Protect You From Over 50 Pests
Is a mystery pest bugging your household? If you're not sure what kinds of pests you have, it can be hard to know what you need to do to solve the problem. Get your answers here using our guide to common pests in South Florida. Krypton Pest Control can help you identify that mystery pest and can get rid of them for good.
VIEW ALL
SCHEDULE YOUR FREE PEST INSPECTION TODAY!
Tell us how we can help you get back to being bug-free!