Lawn Ornamentals Miami, FL
Professional Lawn & Plant Treatments Miami-Dade & Broward County
LAWN CARE MIAMI, LAWN CARE FT. LAUDERDALE, LAWN CARE HOLLYWOOD, LAWN CARE PEMBROKE PINES. LAWN CARE POMPANO BEACH, FL
Krypton Pest Control, Co. offers much more than just pest control services. We also offer a wide range of lawn care services. From lawn spraying to tree services, we can help. Our team of lawn care professionals has been helping home and business owners throughout South Florida for years. Let us put our experience in the lawn care industry to work for you.
The Key To A Healthy Yard!
A lush green landscape can be a sense of pride for a Homeowner, while also adding value to your home. Krypton's Lawn Services offers a full array of lawn pest treatment, plant disease management, weed control, and specialized fertilization services to meet your landscape's unique needs.

We will provide you with a level of service that is backed by over 35 years of local experience and enhanced by our ongoing training that keeps all of our technicians on the leading edge of the pest control industry of South Florida.
Our Lawn Care Services:
Lawn Spraying
Fertilization
Insect Control
Fungus and Disease Control
Whitefly Specialists
Fire Ants
Weed Control
Trees
Root Injection
Red Bugs on Palm Trees
Tree Fertilization
Scale and Mealy bug Treatment
Thrips
All of Krypton Pest Controls lawn services are specifically designed for South Florida's unique climate and growing conditions. We only use the best, most technologically advanced equipment and treatment procedures to ensure your lawn, shrubs and trees are beautiful and healthy.

Our lawn care services begin with a complete turf and ornamental evaluation and continue through to a specifically tailored nourishment and treatment plan designed to give you a green and healthy lawn.
Krypton Pest Controls lawn and shrub treatments offer:
Seasonal fertilization and weed control based on your lawn and ornamental needs.
Dedicated equipment to prevent cross-contamination that leads to unhealthy lawn and shrubs.
Trained lawn professionals that are up-to-date on the latest methods and treatments in the industry.
Guaranteed results for a visibly greener lawn you can enjoy!
Best of all, a well-maintained lawn discourages pests from coming near your home. Call Krypton Pest Control Today at (305)-828-2999 to Schedule your Lawns FREE Evaluation.
GAIN PEACE OF MIND
Same Day Pest Control Available
When it comes to pest infestations, we know you want the problem taken care of immediately. Our prompt & professional team will eradicate pests as fast as we can. We even offer same day pest control services!* *If you call before noon (M-F)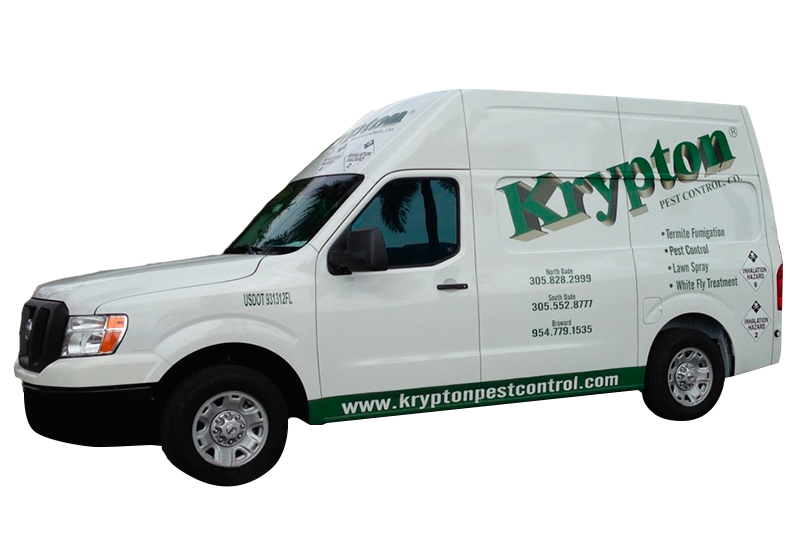 TESTIMONIALS
What Are Clients Are Saying
" Wonderful company to work with. Reached out about tenting and that same Friday the tent was up. They arrived in a timely manner the day of and suggested I remove a couple more items from the house..."
" These guys are great, special thanks to Santiago and supervisor Michael, was kind of worried in the beginning as I always go with companies that are recommended, everything went smoothly."
" On April 27th our condo was tented by Krypton. The salesman came to the meeting and explained in detail how to get ready before tenting. We also received information in writing. "
" The crew was very professional, polite and respectful (short on English) but not an issue. Company called as ahead as promised and showed up within the time frame and adhered to my requested time."
" After months of working with inexperienced exterminators we finally found Krypton Pest Control service that knows the difference between black varied ants and black carpet beetles."
" I highly recommend this company. I have several rental apartments and use them regularly to keep pest out of the units. They work with my tenants schedule and are very flexible. I also use them to..."
" Armando and his team are dedicated to positive customer service. They are on time and communicate with homeowners during the whole process. Good prices for great services!!!"
PEST SOLUTIONS
We Protect You From Over 50 Pests
Is a mystery pest bugging your household? If you're not sure what kinds of pests you have, it can be hard to know what you need to do to solve the problem. Get your answers here using our guide to common pests in South Florida. Krypton Pest Control can help you identify that mystery pest and can get rid of them for good.
VIEW ALL
SCHEDULE YOUR FREE PEST INSPECTION TODAY!
Tell us how we can help you get back to being bug-free!